Monday 10th April
Before I departed at midnight, I asked Ted, G4UPS, to be my anchorman back in the UK and I left him my telephone number so that he could call me if there was any propagation. As it turned out he didn;'t need to call me! I was reasonably optimistic that I would work something as the previous week many of us in Europe worked Andy ZD9BV, in Tristan da Cunha and Nick, 5B4FL, actually worked Mario, VP8ALJ in Stanley! Nick cheekily e-mailed his QSL card to me and asked me to hand-carry it to Mario's house!. Talk about good timing! I also heard that a 9H had worked into the FD major grid (that's the grid that contains Tierra del Fuego) the night before, so I felt that the 6m propagation omens were decidedly good. But, was this to be a trip where all I would hear was white noise? I would find out soon I guess.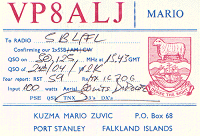 I succeeded; Nick's QSL card from Mario, VP8ALJ!
Getting to the Falkland Islands is decidedly different than using your traditional 747 British Airway flight as it entails flying in an RAF TriStar that leaves from Brize Norton, a UK military base, at midnight local time. As you would expect, the departure lounge was full of British Army 'squadies' getting ready to fly off to Kosovo. This was nothing like the Club Class lounges I'm used to when I travel with British Airways!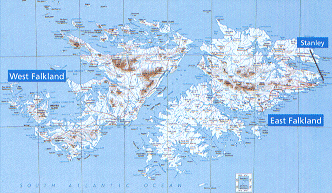 I based myself in Port Stanley on East Falkland
My first concern was flight check-in. I had been told that there was a strict baggage weight limit of 22kg with a £15 per kg excess baggage charge. The trouble was my FT650, Tonna five-element 6m beam and the usual bits and pieces totaled 18kg alone. My suitcase weighed 19kg so I expected to have to have to plead for leniency on these charges (on my knees if necessary) but as it turned out they didn't seem to worry and I walked through customs control without getting my chequebook out of my pocket. Phew!
To my amazement, the TriStar was very comfortable and the seats were actually facing forward and there was more legroom than on BA economy flights. I suppose I was expecting to have to face backwards in an unheated transport plane! The first hop consisted of an eight-hour flight to Ascension Island followed by a one and a half hour's stopover for refuelling. I was off and away!